Meet The Line Editorial Advisory Board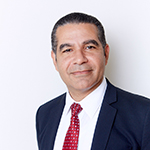 Get to Know:
Jaime Aquino, Ph.D.,Chief Program Officer, New Leaders
The Line is proud to have an exceptionally talented group of education leaders serve as advisors to the publication. We have brought together 19 editorial advisory board members – some of the brightest superintendents from across the country, experts in leadership, management and education policy, think-tank scholars and nonprofit and former union leaders – all educators at heart. Each brings a unique voice to The Line, shaped by personal and professional experience, expertise, ideological leanings and passion. But all are united in their dedication to finding common ground that advances the future of public education. Our editorial team is eager to share some of who they are and what they believe with a Q&A series that kicks off with Jaime Aquino, Ph.D., Chief Program Officer, New Leaders.
"We need to bring "public" back into public education and discuss issues that traditionally have been considered off-limits in our schools.
Q: What is it about The Line that compelled you to serve on the editorial advisory board?
A: In the fall of 1990, I had the privilege and honor to shape the young minds of a class of fourth graders in Queens, New York. As the nation prepared to embark into a conflict known as Operation Desert Storm, my students were fearful of our country engaging in a war. I vividly remember one of my students saying, "Mr. Aquino, you have always told us that we can resolve our differences by talking and not fighting. If that's the case, why don't Presidents Bush and Saddam Hussein do the same thing?  Why don't they sit down and talk it over instead of going to war?" My students have been my best professors and they have taught me that the adults have the responsibility to model the behaviors they want to see in our future generations. In our current political climate of a divided nation, it is imperative that our future leaders know how to engage in civil discourse. I was compelled to be part of The Line as it provides a venue for us, as educators, to model how to engage in productive dialogue about the most challenging issues facing our schools.
Q: How may we encourage conversation among education leaders and advocates of varying viewpoints and experiences about the most challenging K-12 issues at this moment?
A: We need to bring "public" back into public education and discuss issues that traditionally have been considered off-limits in our schools. We should not be consumed with being right but understand that no one has a monopoly of ideas. Educators need to find common ground in what unites us, which is our goal to ensure that all students are able to pursue lives with endless boundaries. As Jim Collins points out in "Good to Great," until we are willing to confront the brutal facts, we will never be able to improve our current reality. We must realize that with diversity of thought we increase the potential for solving the challenges facing public education. But, our differences of opinion should always be anchored around students' best interests.
"Every time I am in schools, I see the promise of a brighter future…
Q: May you share any lessons learned on working with various stakeholders either in this position or, perhaps, as deputy superintendent at Los Angeles United School District or elsewhere?
A: As a senior district leader, it is important to keep a pulse of what's happening in the schools. The best way to do this is by listening to different stakeholders and eliciting patterns that need to be addressed districtwide. During my tenure as the Chief Academic Officer in Denver, the superintendent and I initiated annual town meetings with teachers at every school – four or five per week – to listen to complaints and suggestions. Every principal was assigned to one of 15 groups that met with the superintendent and me once every three weeks. The focus of the principal meetings was to gauge the needs of the district and to develop principals' capacity to lead for improved student outcomes. Spending half of every day with principals and teachers allowed us to better support the work being done in schools on behalf of students.
Q: Your most recent work at New Leaders centered on recruitment and training for education leaders serving poor and minority students. How important is this effort to improving K-12 education?
A: Too often, low-income students receive a second-rate education, leaving them unprepared for success in college and careers. With more than 20 million students living in poverty, the need for more outstanding school leaders is urgent. School leadership accounts for 25 percent of a school's impact on student learning and 96 percent of teachers say school leadership is critical in deciding whether they remain at a school. Strong school leaders elevate instruction, accelerate student learning, and build a brighter future for their communities.
Q: What is your greatest worry about K-12 education right now?
A: The greatest educational challenge we face as a nation is that about a third of our students are proficient in reading and mathematics. If nationwide, 60 percent of our youth had not been vaccinated against a deadly disease, I am confident that we would come together and mobilize all necessary resources to remedy the problem as it is an issue of life or death. We should treat the crisis in education with the same sense of urgency.
Q: What makes you hopeful about the future?
A: Every time I am in schools, I see the promise of a brighter future in the eyes and smiles of the students. I am overwhelmed with the untapped potential that lies within them.