Is Safety In The Eye Of the BeHOLDER?
The data about gun existence, possession, use and style in our country are well known.
1. There are more guns than people in the U.S. (317 million people, 357 million guns)
Source: from federal manufacturing tallies, formed by subtracting the number of firearm exports from the number of firearms imported to and remaining in the United States after manufacture. It's the data that many sources use when calculating the number of guns in America, but it isn't exact.

2. 6/10 Americans believe having a gun in their home makes it a safer place.
Source: Gallup

3. When Americans kill one another, a gun is typically the weapon; guns are used in approximately 68% of all homicides.
Source: FBI

4. "At the current rate, 339,000 Americans will die by guns by the early 2020s. That is roughly equivalent to the current population of Tampa, Florida."
Source: CDC, Walter Hickey – Business Insider

5. States with more relaxed firearm regulations & looser concealed carry laws have the highest rate of gun deaths.
Source: Washington Post

6. America has more guns per capita than any other nation on Earth.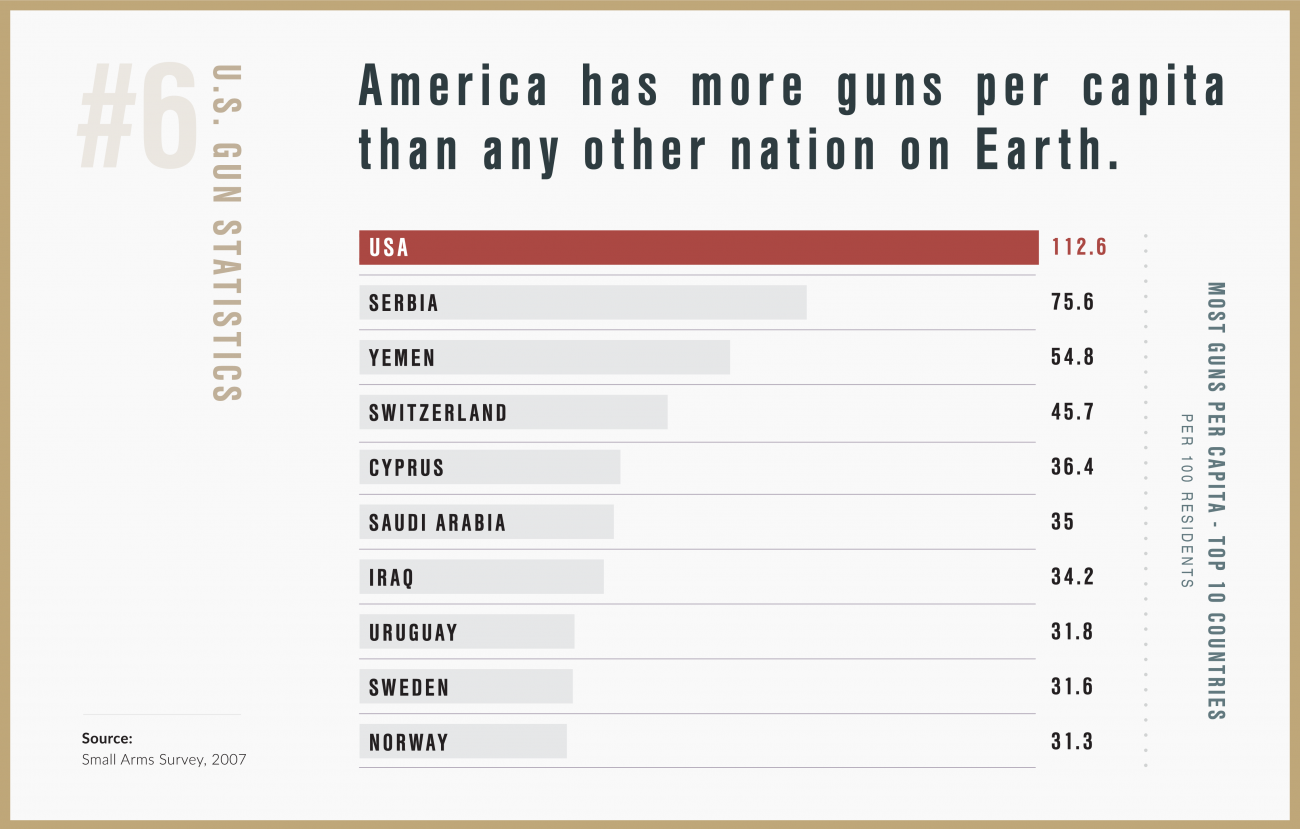 Source: Small Arms Survey 2007

7. U.S. civilians own a vast majority (48%) of the world's civilian-owned guns.
Source: Small Arms Survey 2007

8. The U.S. has more mass shootings than any other country on Earth.
Source: Lankford, University of Alabama, 2016
The emergence of student voice on gun violence is as compelling as any other movement of justice…
The notion of arming teachers and other school officials, on the face of it, seems insane. I can't imagine a kindergarten teacher anywhere in America who must adjust his gun and holder in order to kneel on the carpet to begin the day with students gathered around him for counting, reciting the days of the week or celebrating a 5-year-old's birthday.
With the reality of America's disciplinary data that shows disproportionate consequences for youth who are black and brown v. white, I have difficulty understanding an adult speaking to a child who has been subjected to this uneven administration of punishment while that school leader has a weapon strapped to her side. If we think the power and bias dynamics are currently cause for concern, what then?
The debate about what to do about gun violence and especially gun-related deaths on school property often swings between calls for gun control and greater mental health supports and interventions. To be clear, most studies conducted by mental health institutions and individuals in the field conclude that identification of an individual with mental health related issues and diagnoses do not predict a violent act involving a weapon. However, they do offer the opportunity for immediate support, interventions and help. And in doing so, could interrupt a course of events that may lead to an act of violence. It is without doubt that a much stronger network of mental health support is needed in America, and especially in America's public schools where such services have been underfunded for decades. Simply citing the research around trauma-informed care is enough for school employees to know the overwhelming mental health concerns that emerge daily in our classrooms and the scarcity of available resources to respond.